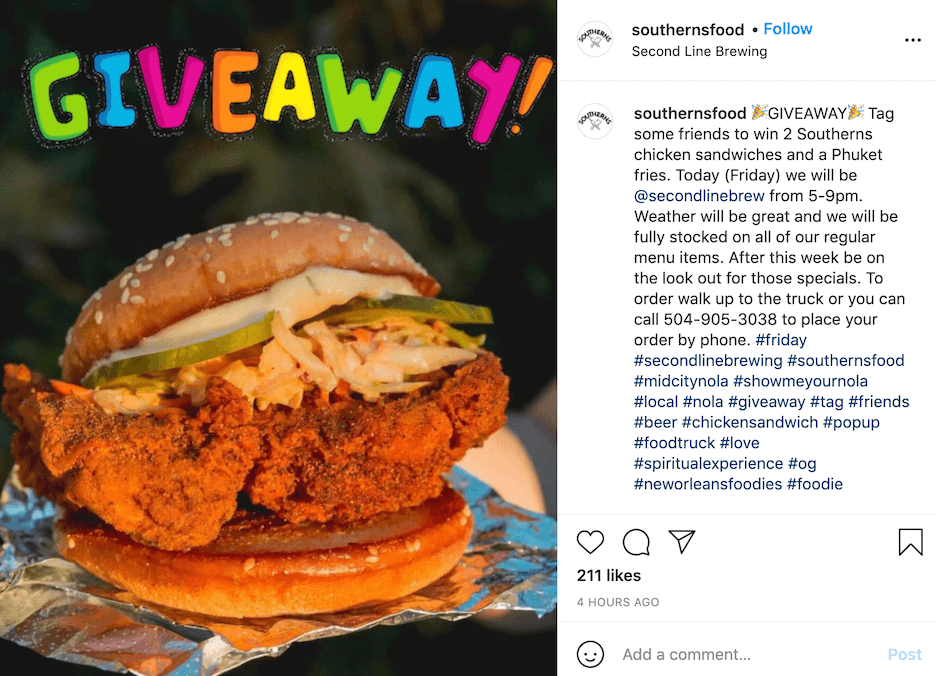 Small Business Advertising Ideas
If you're a small business owner, you probably don't have a big advertising budget. But that doesn't mean that you can't make a difference in the world and be heard above the din of the competition. It just means you have to be smarter about how you spend your money.
First and foremost, you need to determine why you want to advertise your business in the first place. What is it that you are trying to accomplish with your advertising dollars? If it's trying to grow sales or market share, then consider other options like free advertising, word-of-mouth marketing or even Facebook ads.
If you're looking for an inexpensive way to advertise a small business, social media might be exactly what you need. Facebook is by far the most popular platform for getting in front of an audience, but LinkedIn has also been growing in popularity.
Free local advertising ideas
1. Claim and optimize your Google Business Profile
Your Google Business Profile is a free local advertising tool that can get you found on Google in a couple of ways: It's how your business appears on Google Maps, Google Search in the 3-pack, and Google's Knowledge Panel.
But that's not the only way your Google Business listing can help you win over local customers. You can seed the Q&A section of your Google Business Profile to highlight important features and increase customer confidence.
This gives searchers instant information that can drive them to take action (which they can do directly from your Google Business listing!), leading it to be an effective local advertising strategy to focus on.
2. Get reviews
Your Google Business Profile has another benefit: It allows you to collect reviews, a critical component of a successful local marketing strategy–making it an impressive local advertising idea for your business to implement ASAP.
Reviews can act as free advertising for your business because they rely on your happy customers promoting your business and sharing the top reasons people should choose you over the competition.
Plus, people rely on reviews. We know that 93% of people read reviews before making a purchase and 84% of people trust online reviews as much as they trust recommendations from friends or family.
By focusing on collecting reviews, you can increase your chances of appearing for searches containing "best" on Google (Google shows listings with 4 stars or higher) and let your satisfied customers do the advertising for you.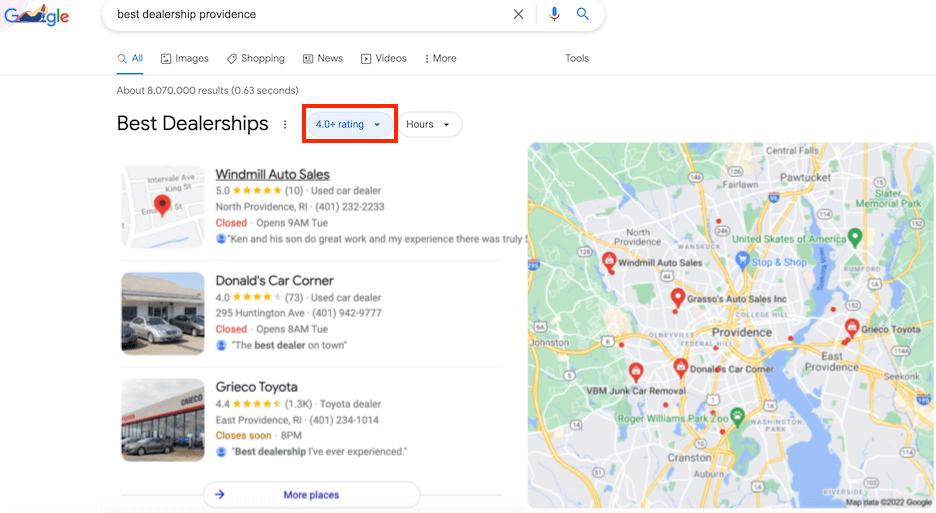 3. Respond to reviews
After getting reviews for your business, it's also important to respond to them. While responding to reviews is important for increasing customer satisfaction, addressing complaints, and building trust with prospective customers, it can also act as free advertising for your business.
In your responses to positive reviews, you can highlight points made by your customers to further call out the pros of your business to prospective customers reading your reviews.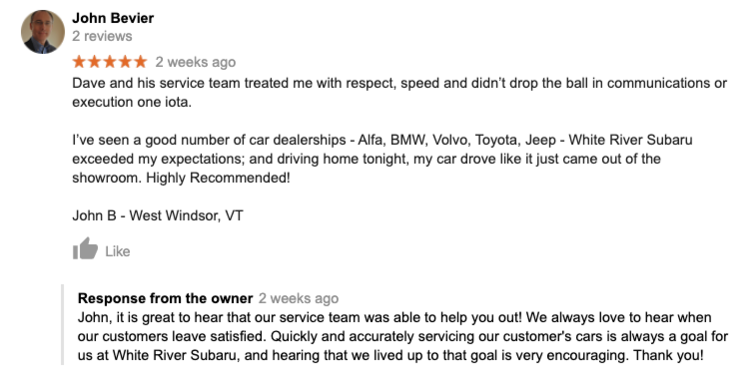 Also, by responding to negative reviews (the right way!), you have an opportunity to show people that you value your customers and work to correct issues while calling out any positive aspects about your business the negative review may have mentioned.
4. Claim, verify, and create local business listings
Did you know that 46% of all searches on Google have local intent? While 46% might not seem like a hugely impressive percentage, when you take into account that Google processes an average of 40,000 searches each second, that translates into 18,400 local searches every second of the day. And you know what shows up in the majority of local searches? Local business listings.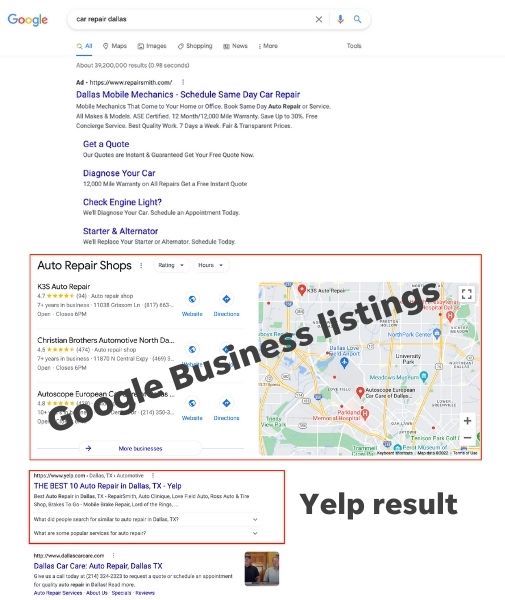 So local business listings are a great idea for advertising your small business. As you can see above, a Google Business listing is essential. But, there are more free listings sites your business needs to be on (like Yelp and Bing!).
Make sure your business has a presence on the top local listings sites and include accurate and updated information across all of them. This may seem like a large feat, but it's worth it to ensure your information is correct (plus, you can get help with listings management).
Not only do search engines reward consistent information across the web (including the exact same Name, Phone Number, and Address), but correct business information creates a positive customer experience–something that's super important to win new customers.
5. Run a customer loyalty program
A customer loyalty program is a great way to reward your current customers and incentivize them to keep coming back. Make your loyalty program work for you by determining what incentive you'll provide customers, how often they can earn rewards, and how you'll keep track of it all.
Paid local advertising ideas that yield high ROI
7. Get seen on sites people frequent with display advertising
Over the last two years, more consumers than ever are turning to their trusted local media outlets for up-to-date news and information. In fact, in 2020 there was a 30% increase in visits to local news sites. Your business can get in front of these customers and increase brand awareness using display advertising.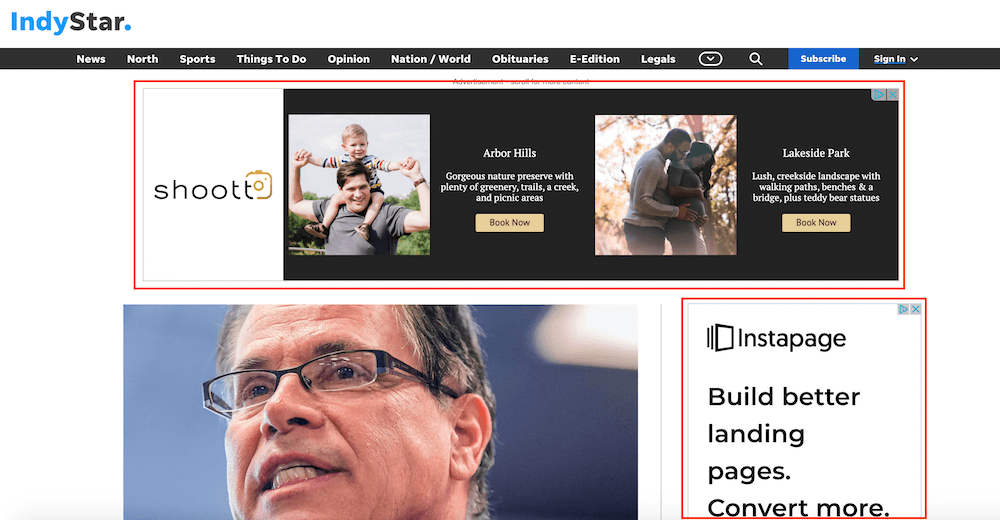 Display advertising is a type of online advertising that shows ads directly on local news sites and other sites across the web with the purpose of driving local customers to your business's landing page or a page on your website. Use display advertising to promote deals or specials, provide information that might be relevant to your local audience, or promote brand awareness by sharing who you are and what you do.
8. Position your business as an expert with branded content
Another way to get in front of consumers visiting their local news publications is by investing in branded content. Branded content allows you to create and promote educational, informative, or entertaining content directly on a local news publication.
9. Try local search advertising
Search advertising is one of those tried-and-true tactics that's become a staple for most businesses running any type of online marketing or advertising. And the reason is simple: It works!
Local PPC positions your business on top search engines for searches related to your business above organic search results, which increases the chances people will click on your result and contact your business.
You can target your search campaigns locally by enabling location extensions in Google Ads. You can use local search ads to get customers to call your business, visit your storefront, or help them learn more about your business.
10. Use print advertising to reach local readers
The local newspaper provides various opportunities for advertising. You can place an ad or get a listing in the appropriate section (whether that be in the classifieds or elsewhere). Print ads are a great localized marketing strategy because you know the exact area your local paper is reaching.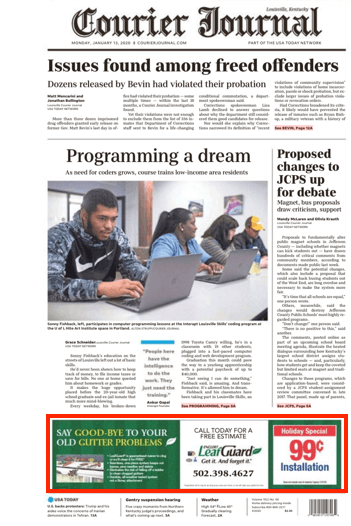 Plus, with technology, you can track the effectiveness of your print advertising by using call tracking numbers or custom codes for your promotions or coupons to keep track of the customers contacting you or doing business with you from your print ads.
11. Host an event
Your event can be pretty much anything you want it to be. It could be a party, demo, festival, workshop, anniversary sale, charity event, or webinar. The options are endless and don't have to cost an arm and a leg.
Your event could also coincide with a promotion–the first 50 visitors get a free coffee with a purchase or 20% off a service or product. It doesn't take a lot for people to enjoy themselves. Sometimes they're really just looking for a good deal and some free snacks.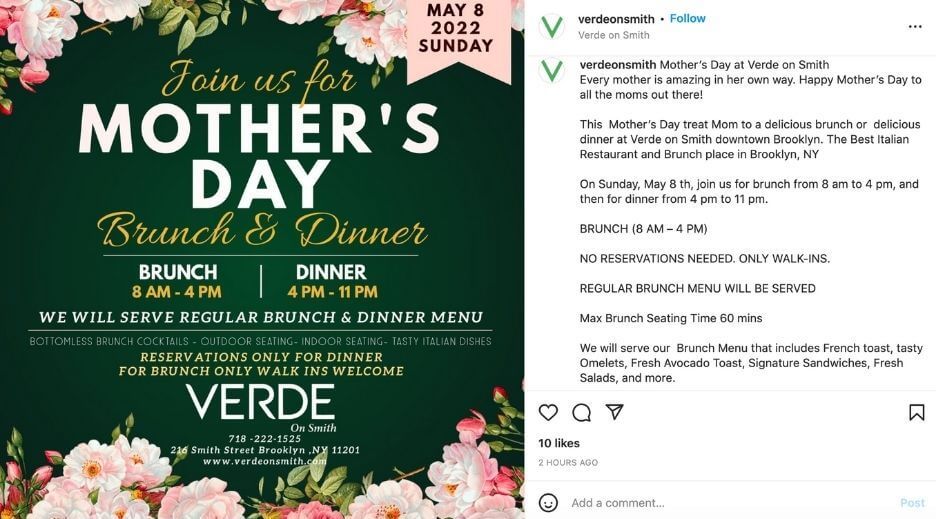 So spread the word far and wide about your event. Use bold signage to let people know. If possible, hold your event out in the open where you can attract more attention on the day of.
12. Send direct mail
Sending printed advertisements to potential customers can be a great way to create awareness for your business. Not only that but doing so repeatedly will keep your business top of mind, increasing the chances that people will come to you when in need of what you offer. Even better if you incorporate coupons or promotions into your direct mail campaigns!
29. Form partnerships with other businesses
Say you're a photographer — you probably have customers who also want to get their hair and makeup done. And if you're a hair and makeup stylist, you most likely work with people preparing for special events like weddings, who might be looking for a photographer. Forming relationships in which you work together and refer customers to one another is one incredibly valuable way to get free word of mouth advertising.
Yes, it's harder than ever to make an impact organically (read: for free) on social media. But that doesn't mean you should ignore it. Social media networks remain one of the most common places for people to learn about businesses. In fact, 25% of Millennial consumers start with social media — not a Google search or visiting the company website — when researching a business. Make sure you have an active presence and fully completed profiles on whatever social media channels you opt to use.
Sources:
https://filmlifestyle.com/small-business-advertising-ideas/
https://localiq.com/blog/local-advertising-ideas-for-small-businesses/
https://biteable.com/blog/free-advertising-ideas/