No matter if it's creating content for your site, or how to improve user experience, always keep your readers' needs in mind as you attempt to grow out your site. You are going to get more return visitors and earn more backlinks by creating content that solves complex problems that other bloggers haven't addressed as thoroughly.
How to Create Blog Content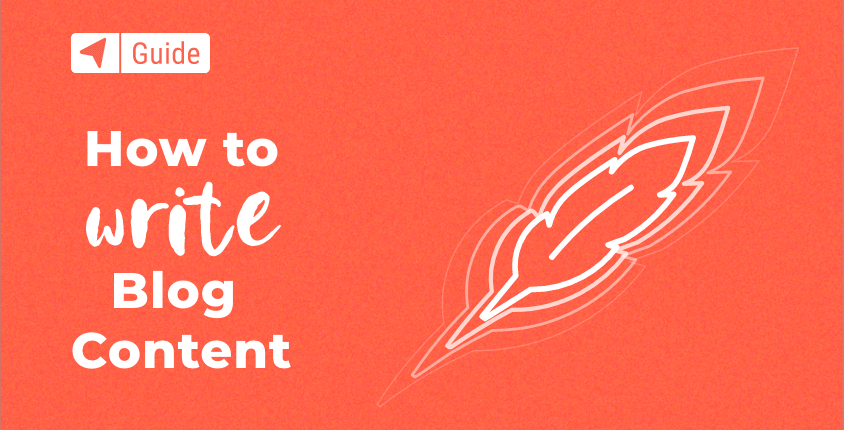 Before you start writing your day-to-day blog posts, you will want to make sure that the static pages and other parts of your blog, such as the sidebar and footer, are filled with suitable information. Let's explore each of these content areas.
Step #1: Content for static pages
About page
The most traditional page on any blog is the About page. This page tells new visitors to your blog what it is about, who you are and why you have a blog about your particular topic. Depending on your niche and your style, the information you provide can be "all business" or personal and fun.
Contact page
This page allows visitors of your blog to communicate with you at any time. It can be a simple page with your email address plus social network links, or you can use plugins like Contact Form 7 to have a simple contact form that visitors can use to communicate with you without leaving your website.
Products/services
If you have created your blog to promote your business, you'll want to make sure that there's a page that details the goods and services that you sell. Alternatively, if you already have a website for your business, you can provide a link to it in your menu.
A blog is a low-cost, low-risk way to invite readers into your world and begin a conversation with your company. 68% of consumers are likely to spend time reading content produced by a company they are interested in.
Disclaimer/policy
For example, if you are writing a health blog, but you're not a medical professional, you may want to create a disclaimer to say that you are not a physician or other healthcare provider and to recommend that readers see their doctors for medical information and evaluation.
Be sure to visit the best blogs in your niche, preferably larger ones, to see what pages they provide links for in their primary navigation menu and footer. Chances are, your visitors will be looking for the same types of pages on your blog.
Blog category pages content
To begin with, you will have to choose categories for your new blog. Depending on your main topic, you can have different categories. For example, if you are starting a food blog, your categories could be recipes, desserts, breakfast, and more.
The next step is to create short text for each category page that is going to be available on your blog. The text can be anywhere between 50-150 words. You might wonder why you need this text. The answer is that it will help these pages to rank better in search engines and users can easily understand what type of content is included under this category.
Step #2: Blog sidebar content
Your sidebar is the smaller column to the left or right (depending on the theme you selected) of your blog's main content. You can add the following content in sidebar widgets for your visitors to see. You don't have to add all of the sections described below, but these are some common sidebar contents sections people have on their blogs.
Subscribe
Encourage visitors to your blog to subscribe via email or RSS. Email, of course, is best, especially if you would like to monetize your blog in the future. MailChimp is a great service to use as it is free for the first 2,000 subscribers.
About
It's helpful to include a simple sentence or two about you and your blog for new visitors who may not take the time to read your About page. Having your photo included in this blurb of text helps visitors to put a face to the blog, whether you are the owner and editor managing other writers, or the primary content author.
You can also display links to your social profiles so that people can follow you. You can use icons to represent each network or use official boxes, buttons, and badges from these networks. The latter helps you to build your social media audience by allowing people to connect with you without leaving your website.
Popular posts
Advertisers
If you plan to add advertising banners to your blog, then add them from the start, so that regular visitors will not be surprised when you do start gaining advertisers. The banners you use until then can link to products for which you are an affiliate marketer or to products that you simply like.
Creating a content plan for your new blog
To build and maintain a successful blog, you need to have a well-established content plan. It should include all of the details related to future blog posts, publishing schedules, audience development and much more. Without this concrete plan, it is impossible to maintain the popularity and consistent quality of your work.
Step #1: Create a list of topics
Next, you can start listing items that would be longer, in-depth pieces of content to write. This is also called cornerstone content (we will talk about this in the next step). These posts could be some guides or tutorials on your niche topic. This is why we keep mentioning that you should pick a niche within your passion because it will be easier to generate ideas.
Step #2: Select and prepare cornerstone content
Now it's time to create the content. You'll read a lot about optimizing your content for search engines, and while that is important, if you don't optimize your content for humans, then you'll never gain the exposure that it takes to get links and rank well in search engines. If you write content that people love to read, then you will get traffic, social shares and links as your readership grows.
Step #3: Pick and write 5-10 blog posts
Now you can select blog posts that you are going to write and post on your blog. As we mentioned earlier, you will write your posts in support of your cornerstone content. In our case, if we create "A guide to different types of yoga" as a core piece, our series of blog posts can be the "What is [type] yoga?" series.
Writing blog posts
The blog post is an entry (article) that you write on a blog. It can include content in the form of text, photos, infographics, or videos. Make sure you always have an engaging introduction, quality content, and a solid conclusion.
Best writing practices
Good grammar and spelling
Make sure you write grammatically correct sentences. Poorly written content with grammatical and spelling errors will kill the trust of readers. It will also discourage them from visiting your website again or buying something from you. Here are some tools you can use to check your grammar.
Set your blogging goals
You'll never know if you are getting the most out of blogging if you haven't set goals for your blog. Is your goal to make money? Get a new job? Find people to connect with about a particular topic? Define your blogging goals and periodically ask yourself if your blog is helping you meet them. If not, ask yourself how you can improve your blog to meet the goals.
Commit to becoming an expert
No matter what your blogging goals are, if you strive to be an expert in your niche, the fulfillment of your goals is sure to follow. People who are known as experts in their niche tend to receive more recognition and income for their content. They also tend to have larger audiences and the option to turn their readers into customers by offering related products and services.
Engage with your audience
The best way to stay in tune with your readers is to engage with them. Some ways to do this include replying to comments, responding to queries from your contact form, joining in conversations with users on social networks, and visiting your readers' blogs to see what they are interested in and join discussions. As you do this, you will build stronger relationships with your readers and learn more about what they want, something that can help inspire your future content.
Edit your work, or hire an editor
For many people, it's hard to create content, then proofread and edit it. As a matter of fact, editing while you write can hinder your creative flow. Proofreading is not optional. A blog post full of misspelled words and typos reflects poorly on you. If you're not able to do these tasks on your own, consider hiring a virtual assistant to do it for you. It is especially important if you're not writing in your native language. Having a native speaker of the language used in your blog edit your work can boost your credibility. While blog content does not need to be perfect, it does need to be easy to read and consume.
Step #4: Create an editorial calendar and start posting
To help maintain your consistency, be sure to use some form of an editorial calendar. You can use Google Calendar, Outlook Calendar, or even a simple spreadsheet. Use it to manage your ideas and plan your content themes for each month so that blogging is something that you focus on, not something you do in your spare time.
Authorship:
https://firstsiteguide.com/write-content/
https://bloggingwizard.com/content-types/
https://www.jeffbullas.com/best-blog-content/